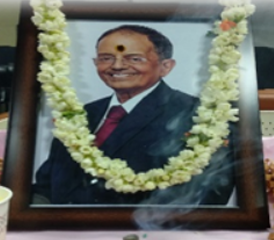 Bhavapoorna Shraddhanjali to our beloved Prof. Gurunath Kilara
Professor Gurunath Kilara (LM-26) was born on 17th January 1952. He did his under graduation from St Johns Medical College and Postgraduation in Radiation Oncology from PGI Chandigarh.
He joined Kidwai Memorial Institute of Oncology as a faculty and worked till 1990 when he retired as Professor. During his stay at KMIO, he brought many modern radiotherapy practices in place, changed the scenario from radiology oriented and brought an identity to Radiotherapy. He also did his Leads fellowship.
He was one of the founder members of the first private Oncology center, 'The Bangalore Institute of Oncology'. He was the chief Radiation Oncologist at the Curie Institute of Oncology in the campus of St Johns Medical College between 1995 and 2007.Subsequently he became the Medical director of MSR HCG center and served till 2019 when he retired from active practice.
He has been a great teacher which was evident during the academic programmes both at MSR and HCG. He was an examiner to many students and encouraged them to rise to their maximum potential. He was known for his everlasting smile, elegant dress sense, oratory skills, ability to convey his points, interest in research and many more. In addition, he was a great singer and we all enjoyed his ghazals very much.
He was a part of organising many national and international conferences and gave many orations the latest during ICC at Bengaluru in 2017.He encouraged his younger colleagues to do more and more and guided them at right time to reach to greater heights.
He was committed to the subject and has many accomplishments to his credit. He did the first Iridium implant in India, brain brachytherapy, the first IMRT in Karnataka, stereotactic radiosurgery.
He was instrumental in linking all the physics departments of HCG chain of oncology centers under one Central physics. He took exceptional care and considered all the members of the center as a family which was evident during Christmas and new year celebrations.
He is survived by his wife Prof Nalini Kilara and two daughters. There are lots to learn from his illustrious life and he will be fondly remembered forever.
Back to Orbituary Main