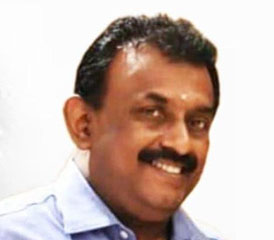 Prof. R Mahadevan
(4.5.1961- 27.2.2023)
Dr Mahadevan Rajagopal was born on May 4th ,1961 in Trivandrum, Kerala. He passed his MBBS in 1988. He finished DMRT in 2002 from Medical College Trivandrum and RCC and DNB in Radiation Oncology in 2005.
He joined Kerala Medical Education Department in 1991 as Lecturer in Radiotherapy and worked in Government Medical Colleges of Thrissur and Trivandrum for about a decade. In 2003 ,he was promoted as Assistant Professor of Radiotherapy in Government Medical College Kottayam and in 2009 as Associate Professor. He was the head of the Department of Radiation Oncology in Government Medical College Thrissur and later in Trivandrum. In 2011, he became Professor of Radiation Oncology and was continuing till his departure to heavenly abode on February 27th , 2023.
Dr Mahadevan was elected as Secretary, Kerala Chapter of Association of Radiation Oncologists of India in 2018 and continued till 2023. His organising capacity was incredible and was actively involved in organising numerous national and international academic conferences and meetings in Kerala. He gave Dr F Joseph Memorial Oration in the Annual State AROI conference.
Dr Mahadevan, as his every colleague would testify, was a brilliant academician. He believed in hard work for acquiring knowledge and imparted the same to his students by setting his life as an example. He encouraged his colleagues and students to achieve academic excellence and motivated them to aspire for super specialty courses and clinical fellowships in Radiation Oncology. His trainees pursuing higher education all over the world would assert this. He was examiner for MD and DNB courses in Radiation Oncology all over India and inspired students to attain higher levels of success in their lives.
Dr Mahadevan had proved to be an excellent clinician. He was famous in his realm for his clinical judgement and timely treatment decisions. His empathy and humanitarian approach to patients had won the hearts of millions during his clinical practice. His gentle and affectionate attitude had welcomed patients to approach him at any time. His care for the poor and needy patients is still remembered by his colleagues. He even motivated his colleagues to extend their hands for the poor patients at all times.
In the administrative side, he had held positions of Deputy Superintendent and Superintendent of Government Medical College, Thrissur and played an important role in leading Hospital development societies. Dr Mahadevan enacted a key role in acquiring state of the art linear accelerator radiotherapy machines in two government medical colleges in Kerala; Thrissur and Trivandrum. During his period, Day care chemotherapy for oncology patients was first initiated in Government infrastructure in Thrissur Medical College. He also set up palliative care wards for the first time in Government in Thrissur. He even extended his helping hand to his colleagues working in government health services department to set up independent oncology centres in all districts and motivated them to procure radiotherapy machines in their centres. His untimely demise is surely a huge loss to the oncology community and to the health services in Kerala.
Dr Mahadevan was a visionary who dreamt about revolutionising government medical college oncology departments to the state-of-the-art tertiary regional oncology centres. Dr Mahadevan had unfulfilled dreams and visions about the future of radiation oncology which he had shared with his colleagues and students. His untimely departure has indeed left a vacuum in the hearts of his dear and near ones and they would carry his visions forward. He was nearing his retirement from Government service in May 2023, when he succumbed to the ailment and left us suddenly. He fought valiantly in his life till his last breath with immense confidence and courage but could not made through. He is survived by his wife Dr Mini Mahadevan, Consultant Pulmonologist and his daughter, Parvathy Mahadevan and her family. He would be fondly remembered forever by everyone acquainted with him and would live in our memories.