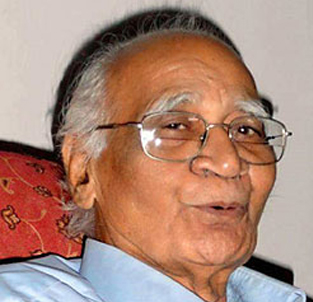 PROF. B.D.GUPTA
1934 – 2017 ( Left for heavenly aboard on 17th September,2017 )
Prof. Brahm Dutt Gupta was born in Uttar Pradesh on 8th March 1934. After graduating from Medical College Agra, he did his post-graduation in Radiology (combined Radio-diagnosis and Radiotherapy) under the eminent Dr. P.K. Haldar in 1963. He went to Manchester in United Kingdom and worked at Christie hospital, the Mecca of radiotherapy and obtained the FRCR degree from London and came back to the country to practice exclusively Radiotherapy and Oncology. Following a brief stint at the AIIMS, New Delhi, he joined PGIMER, Chandigarh in November,1971 and founded the Department of Radiotherapy and served as the Head of this department till 31st March, 1994. He was also responsible for establishing the Department of Telemedicine at the institute after his retirement from Radiotherapy, where he was an Emeritus Professor.
Prof. Gupta had passion for developing Radiotherapy as a separate discipline and built a independent department of Radiotherapy at PGIMER Chandigarh which went on to become one of the best in the country and gained recognition not only in India but abroad also. He is also responsible in planning and establishing number of Radiotherapy centres in northern India including one at AIIMS New Delhi. Beginning with a basic 250 KV machine, the department at PGIMER , soon acquired modern tele-cobalt machines for therapy. He was instrumental in bringing the first CT-Scan machine and first Linear Accelerator in this institute free of cost. He was instrumental in developing first indigenous Linear Accelerator in collaboration with SAMEER,Mumbai and CSIO Chandigarh and first prototype machine was installed at PGIMER which worked for 10 years. His pioneering work in brachytherapy brought international recognition. The department started its MD (Radiotherapy) program where he trained numerous students who now are senior Radiation Oncologists in the country and abroad. Even after retirement, he remained busy treating patients free of cost, advising, training manpower and spreading cancer awareness till the very end.
During his illustrious career, Prof. Gupta won many laurels – the B .C. Roy and ICMR awards being the more prominent ones. He was the founder member of AERB and the National Cancer Control Program of the Government of India. He founded along with Dr. T.K. Datta and Dr. Harish Kulkarni, the Association of Radiation Oncologists of India ( AROI ) in 1976 and became its President in 1978. He also served as the editor of AROI journal He has delivered a number of Orations and invited talks.. He is survived by his wife, Mrs. Kamlesh Gupta and two sons, Prashant and Nishant Gupta ,both are happily married.